Today is BOOKflix Friday!
Few things can draw a reader to a new book like a book trailer can.
Get the popcorn ready.
Lights…Camera…Action!
---
---
Dr. Jewell Parker Rhodes is an accomplished author who has written a few hits for readers your age in the past few years.
Today we'll take a look at three of them.
Twelve-year-old Lanesha lives in a tight-knit community in New Orleans' Ninth Ward. She doesn't have a fancy house like her uptown family or lots of friends like other kids on her street. But what she does have is Mama Ya-Ya, her fiercely loving caretaker, wise in the ways of the world and able to predict the future. So when Mama Ya-Ya's visions show a powerful hurricane–Katrina–fast approaching, it's up to Lanesha to call upon the hope and strength Mama Ya-Ya has given her to help them both survive the storm.
Ninth Ward is a celebration of resilience, love, family, and friendship, and a deeply emotional story of transformation.
•••
When her fifth-grade teacher hints that a series of lessons about home and community will culminate with one big answer about two tall towers once visible outside their classroom window, Dèja can't help but feel confused. She sets off on a journey of discovery, with new friends Ben and Sabeen by her side. But just as she gets closer to answering big questions about who she is, what America means, and how communities can grow (and heal), she uncovers new questions, too. Like, why does Pop get so angry when she brings up anything about the towers?
•••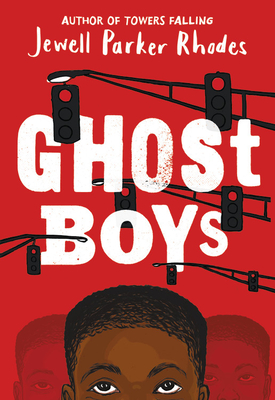 A heartbreaking and powerful story about a black boy killed by a police officer, drawing connections through history, from award-winning author Jewell Parker Rhodes.
Only the living can make the world better. Live and make it better.
Twelve-year-old Jerome is shot by a police officer who mistakes his toy gun for a real threat. As a ghost, he observes the devastation that's been unleashed on his family and community in the wake of what they see as an unjust and brutal killing.
Soon Jerome meets another ghost: Emmett Till, a boy from a very different time but similar circumstances. Emmett helps Jerome process what has happened, on a journey towards recognizing how historical racism may have led to the events that ended his life. Jerome also meets Sarah, the daughter of the police officer, who grapples with her father's actions.
Once again Jewell Parker Rhodes deftly weaves historical and socio-political layers into a gripping and poignant story about how children and families face the complexities of today's world, and how one boy grows to understand American blackness in the aftermath of his own death.
My Thoughts…
Wow— what a flood of emotions came rushing through me at various point of this story. This book was, as they say, "Ripped from the headlines". There have been too many news stories in the past few years of men and boys of color who have been mistreated at the hands of white police officers. And yes—some are shot and killed.
It's tragic.
On the first page of this book, Jerome is already shot and dead. That's not giving anything away. The things he sees and the people he meets as a ghost gives him insights and experiences he wouldn't otherwise have. I liked that he met up with the daughter of the policeman who shot him. Important lessons there.
It was especially fascinating hearing Emmett Till's story. Yes— that Emmett. Don't know what he's all about?
Who Was Emmett Till?
Emmett Till was born in 1941 in Chicago and grew up in a middle-class black neighborhood. Till was visiting relatives in Money, Mississippi, in 1955 when the fourteen-year-old was accused of whistling at Carolyn Bryant, a white woman who was a cashier at a grocery store. 
Four days later, Bryant's husband Roy and his half-brother J.W. Milam kidnapped Till, beat him and shot him in the head. The men were tried for murder, but an all-white, male jury acquitted them. 
I recommend this book to all readers. It is fantasy… but it's also realistic and modern day and historical. Quite a combination.
•••